2/97 San Diego Trip
---
Saturday, 2/22/97: Keiko at UCSD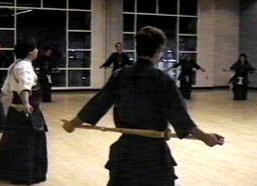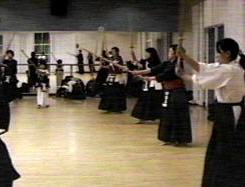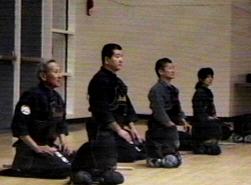 Approximately 20 people came to the keiko at RIMAC Center on the UCSD campus. Uyeji Sensei, Shikai Masashi Sensei, Yamamoto John Sensei, and Shikai Yuriko Sensei were in attendance (with Kodama Jean Sensei sidelined with bronchitis). The keiko consisted of warm-ups, kihon, uchikomi, rotation keiko, waza keiko, and jiyuu geiko.
Shikai Masashi Sensei conducted the practice and gave everyone a thorough workout. Below he demonstrates kote-suriage-men waza (parry kote, strike men technique).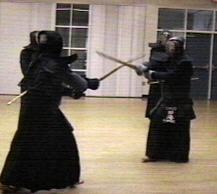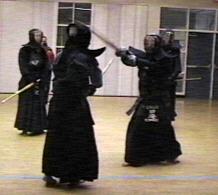 Following keiko, kenshi chowed down pasta at the Old Spaghetti Factory in downtown San Diego. Then the girls played hanafuda at Yamamoto Sensei's house until the wee hours, with prizes going to all. The big winner was the youngest kenshi, Yurika Shikai!
---
Sunday, 2/23/97: Climbing at Vertical Hold
After a potluck brunch, including a gourmet antipasto salad prepared by Shikai Masashi Sensei, the group caravaned to Vertical Hold for about 3 hours of climbing. The kids, Sayuri and Yurika Shikai, outlasted everyone.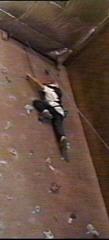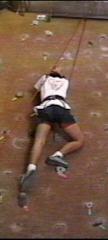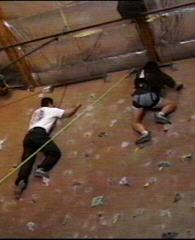 Above, left to right: Yurika Shikai, Linda Fu, Masashi Shikai and Nora Izumihara.
Below, left to right: Nora Izumihara, Lisa Yamamoto.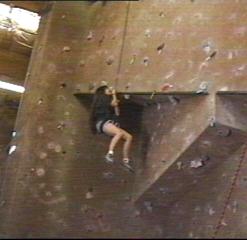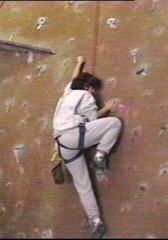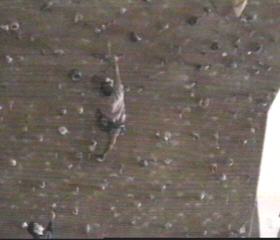 Left: Climbing instructors John and Carl Yamamoto demonstrate the hard stuff. John (bottom left) belays Carl as he climbs an extreme overhanging route. Note: The camera angle does not convey the difficulty of this climb!
Happy but very, very tired, we left Vertical Hold and had another gourmet meal at a Chinese restaurant before hitting the road for the return trip home. We definitely have to do this again!

Many thanks to the senseis who attended the practice and the climbing instructors. Also special thanks to Yamamoto Sensei for putting us up at his house and to Uyeji Sensei for providing drinks and treats.

Return to WKA home