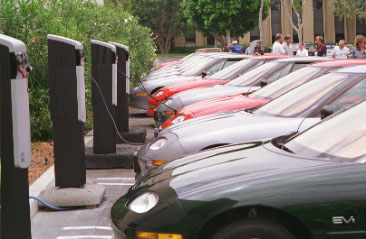 EV1 Club Meeting #4 (7/19/97)
The opinions stated here are not the official position of the EV1 club.
---
At left, a dozen or so EV1's are parked at GM's ATV facility for the July club meeting.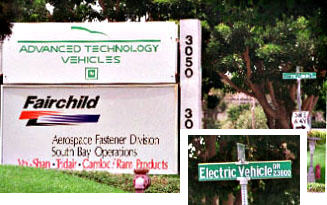 July's EV1 club meeting was hosted by GM's Advanced Technology Vehicle Center in Torrance. This was by far the best meeting yet (our biased engineer's viewpoint) since it included a tour of GM's facility where development and testing of the EV1's electronics takes place, along with work on buses, the electric S-10 truck, and chargers. Here they really get into their work! Notice the street sign on the main driveway (enlarged in the inset).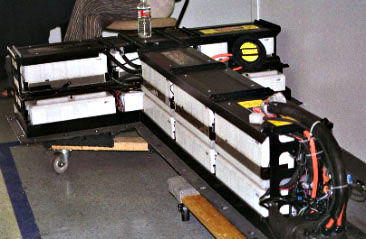 On display was something EV1 owners don't normally get to see- a battery pack (left). Even a NiMH battery pack was there, raising hopes that perhaps we'll soon get to try one out (Hint! Hint!).


Inside the facility we saw test setups for environmental, vibration, and EMI testing, including a stripped-down body which allowed us to see how the pieces fit together. We also had ample time to ask questions of the engineers involved in the work. All-in-all, a very impressive tour which drove home just how big a job it is to design and validate a real-world vehicle.
Additional bonuses were a chance to talk to Clive Roberts, who is the Ride and Handling Development Engineer for the EV1 and who set the world electric vehicle speed record in a modified EV1, and a chance to see club member Marvin Rush's home-made EV1 ad!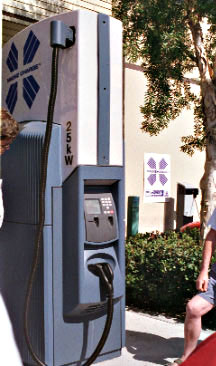 The monster 25 KW charger at left would charge the EV1 in less than 1/2 hour. Though the charger paddle fits in the EV1, the car cannot accept the full power of the charger. As much as 125 KW has been pumped through the EV1-style paddle, leaving the door open to very fast charging for future electric vehicles.
Notice the standard 6.6 KW charger in the background.