Issho Ni Fundraiser Dinner 3/14/09
The Southeast Japanese School and Community Center has just replaced the gymnasium floor and put up a new ceiling, at the cost of several tens of thousands of dollars. To help pay for it, there will be a fundraising dinner on Saturday, 3/14/09 (see bottom of page for flyer).
Since we are one of the main users of the gym we will have a major role in the event, taking care of all food preparation and kitchen duties. Work shifts are summarized below, with details at the bottom of this page. Everyone please come Friday night to help with food preparation, plus sign up for at least one other shift:

    Thu 3/12 5pm  please sign up to help
    Fri 3/13 9am  please sign up to help
    Fri 3/13 7pm  EVERYONE expected to help
    Sat 3/14 8am  please sign up to help
    Sat 3/14 2pm  please sign up to help 
We also need to show our support for the Center monetarily. Instead of monthly dojo fees for January and February, we will be collecting $30 from each family for the fundraiser (please pay by 3/9).
The dojo has a limited amount of dinner tickets (one per family), so if you do not plan to attend the dinner, please let us know as soon as possible so we can make your ticket available for sale to other families. If you do need your ticket, please claim it by 3/9.
Thank you very much to those of you who have already paid the $30 and signed up for work shifts. It is very important for Norwalk Kendo Dojo to show our support and appreciation to the Center, which is why we need the participation of ALL of our members.
THANK YOU FOR YOUR SUPPORT!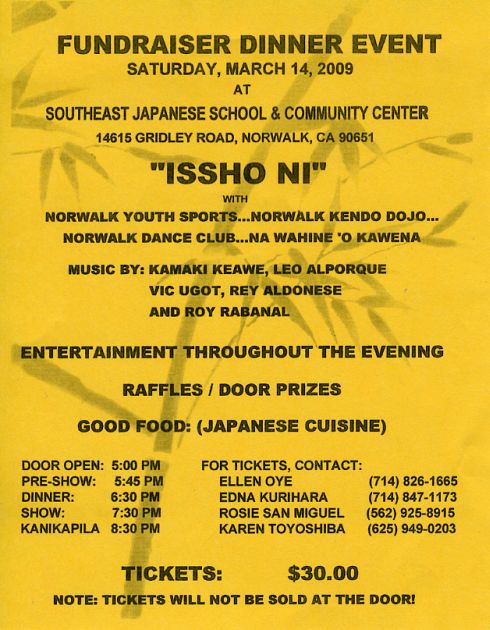 Sign up lists so far:
Thursday 5pm~
Mr. & Mrs. Yoshimura
Mrs. Tanaka
Kariya, Yoshijiro
Cho, In Ho
Matsuda, Shawn
Hahn, Rex
Checkcinco, Chris
Yoon, Kay
Yoon, Brian
Kodama David
Friday 9am
Mr. & Mrs. Yoshimura
Toh, Shauna
Ma, Philip
Sanchez, German
Yoon, Kay
Yoon, Brian
Friday 7pm
Kim, Myong (Esther's Mom)
Choi, Dolorosa
Domen, Carolyn
Joe, Seong Ok (Soo & Kyung's Mom)
Mrs. Hamamura
Mr. & Mrs Yoshimura
Mrs. Tanaka
Park, Jeong (Richard's Mom)
Yu, Inju (Justin's Mom)
Toh, Shauna
Nguyen, Emil
Liao, June (Alex's Mom)
Huang, Michael
Mrs. Chung (Alex's Mom)
Yoon, Kay
Yoon, Brian
Hahn, Janet
Saturday 8am~2pm
Kim, Myong (Esther's Mom)
Choi, Dolorosa
Joe, Seongok (Soo & Kyung's mom)
Choe, Jung Hee (Bry& Andrew's Mom)
Mrs. Hamamura
Mr. Wang
Mr. & Mrs. Yoshimura
Mrs. Tanaka
Domen, Takashi (Nicholas' Grandfather)
Toh, Shauna
Chang, Jeffrey
Shanchez, Matthew
Yoon, Kay
Yoon, Brian
Kariya, Yoshijiro
Kodama Jean
Kodama David (before 10am)
Saturday 2pm to Close
Mrs. Hamamura
Mr. Wang
Mr. & Mrs. Yoshimura
Mrs. Tanaka
Park, Jeong (Richard's Mom)
Yu, Inju (Justin's Mom)
Chang, Jeffrey
Nguyen, Emil
Lim, Mitchell
Cho, In Ho
Liao, June (Alex's Mom)
Huang, Michael
Mrs. Chung (Alex's Mom)
Yoon, Kay
Yoon, Brian
Kodama Jean
Kodama David (after 5pm)