Norwalk Dojo 50th Anniversary Hara Akio Sensei Bio Notes
for booklet
---
write up
Akio "Bob" Hara founded Norwalk Kendo Dojo in 1964. This year marks the 20th anniversary of his passing, and the 101st anniversary of his birth.

Hara Sensei played an important part in developing kendo on the West Coast. He started kendo in 1930, at the age of 16, under the instruction of Nakamura Tokichi. Nakamura Sensei came to America in 1929 and founded Hokubei Butokukai to spread kendo in North America. Young Akio traveled with Nakamura Sensei throughout California, Oregon, and Washington to help him accomplish this, as well as touring with him several times in Japan, Korea, and Manchuria. By 1937, Hara Sensei had served as head instructor to Chuka Kendo Renmei (Central California Kendo Federation), Hokka Kendo Renmei (Northern California Kendo Federation), and Sei Hokubei Renmei in Oregon and Washington.

The coming of World War II devastated the Japanese-American population in general, and the kendo community in particular. Like many kendo leaders, Hara Sensei burned all his equipment, clothing, and papers to avoid being arrested as a potentially dangerous enemy alien. Unfortunately, the dark cloud hanging over Japanese-Americans remained long after they were released from internment camps following the end of the war.

It wasn't until 1955 that Hara Sensei started teaching kendo again. By that time he had moved his young family from Central California down to Los Angeles. Hara Sensei taught at Chuo Kendo Dojo and was head instructor at Pasadena Bukkyokai Kendo Dojo. He founded Covina Dojo in 1968, and was an important fixture at all the Southern California Kendo Federation events.

Hara Sensei remained an impressive kendoist even in his later years. He was an expert at nito-ryu (two-sword technique), and could score at will against anyone, even very high ranking sensei. His one-handed do was a sight to behold.

Hara Sensei was a wonderful teacher, even outside of kendo. As one example, he helped train his son Yoshiaki to become quite a baseball slugger. There was a park behind their house, and every week they would find dozens of tennis balls in their backyard, which Hara Sensei would pitch to Yoshiaki to hit back over the fence. But as they collected the balls, he would always sneak in a lemon or two off the tree. Yoshiaki knew this, and developed the ability to intensely focus on each pitch as he watched for his chance to splatter any lemons coming his way. Yoshiaki was so lucky to have a naturally gifted teacher for a father, who knew how to make learning fun.

Hara Sensei brought that same sense of fun to teaching kendo. There was always a long line of kenshi waiting to practice with him. He loved doing kendo, and he passed that on to his students.

In fact, he loved life, and he passed that on to everyone around him. He was especially loved by kids. Whenever the family got together, the cousins all looked forward to playing with Uncle Bob. He always had time for his nieces and nephews, grandkids, great-grandkid, and, really, for anyone who was as young at heart as he was.

Hara Sensei made a difference in so many lives, in so many ways. His legacy will live on in all of us.
---
personal timeline

1914 born in Woodland CA
1922 went to Kumamoto-ken, Kyushu, Japan, age 7 (Kibei Nisei*)
1928 age 13 returned to US, Florin CA
1930 started kendo under Nakamura Tokichi hanshi*
1931 became uchideshi* under Nakamura Sensei
1931,32,34 toured Japan, Manchuria, and Korea for 3-month
     periods under the instruction of Nakamura Sensei
1933 received 2-dan
1934 received 3-dan from Maruyama renshi
1935 took over Chuka Kendo Renmei (6 dojo) due to the illness
     of Maruyama Sensei
1936 took over Hokka Kendo Renmei (7 dojo) until the return
     of Sukekane renshi from Japan
1937 received 4-dan, became soshihan* of 3 dojo in Oregon and
     5 dojo in Washington
1938 received 5-dan renshi in Japan from Dai Nihon Butokukai
1939 moved to Dinuba CA to help the family farming business
1942 during World War II was placed in Poston Relocation Center;
     camp chef; met future wife, Sachiko. in cooking school.
1948 married Sachiko in Dinuba
daughter Akemi and son Yoshiaki Melvin were born
1951 moved to Los Angeles; became a gardener
1954 bought home in East LA (now Monterey Park)
1955 became an instructor at Chuo Kendo Dojo
1959 received 6-dan*
1962 became head instructor of Pasadena Bukkyokai Dojo
1963 received kyoshi
1964 founded Norwalk Kendo Dojo
1968 founded Covina Kendo Dojo
1971 received 7-dan
1973 referee at 2WKC* in Los Angeles and San Francisco
1978 court judge at 1st US Kendo Championships in Los Angeles
1981 court judge at 2nd US Kendo Championships in Chicago IL
1981 received 8-dan
1982 referee at 5WKC in Sao Paolo, Brazil
1984 court judge at 3rd US Kendo Championships in Seattle WA
1986 heart condition diagnosed; reduced teaching kendo; eventually retired
1993 awarded hanshi
1995 passed away

* dictionary of terms
dan, renshi, kyoshi, hanshi: elements of the kendo ranking system. Originally, dan ("black belt") ranks started at 1-dan and ended at 5-dan, followed by shogo (honorary titles) renshi, kyoshi, and hanshi. The title hanshi was, and still is, only conferred on persons at the absolute highest level of authority as kendoists. In the late 1950's, dan ranking was changed to go higher than 5-dan, and today the highest dan achievable is 8-dan. Renshi, kyoshi, and hanshi are now awarded to those kendoists at the 6-dan, 7-dan, and 8-dan levels, respectively, who meet certain standards for qualification.
Issei, Nisei, Kibei Nisei: literally "first generation", "Issei" is generally understood to refer to Japanese immigrants who arrived in America prior to the Immigration Act of 1924. "Nisei" are the children of Issei parents; the bulk of Nisei were children or young adults during World War II. "Kibei Nisei" spent all or part of their childhood in Japan before returning to America.
soshihan: chief instructor for a region, versus shihan, typically a head instructor at a dojo
uchideshi: an apprentice who trains under and assists a sensei on a full-time basis. Historically, an uchi-deshi was typically chosen and groomed to become a shihan or soshihan.
WKC: World Kendo Championships (WKC) are put on by the International Kendo Federation every three years, beginning with 1WKC in 1970. US Kendo Championships are held every three years, starting in 1978. The 1st through 6th US Championships were held by the Kendo Federation of the United States of America (KFUSA), which was formed by Mori Torao Sensei in 1955. In 1995, KFUSA and Beikoku Kendo Renmei, a smaller federation that split off from KFUSA in the late 1980's, merged to create the All United States Kendo Federation, which has held all subsequent Championships.
---
suggested layout:
designed in dos visio using elements from screen capture

used arial-narrow to emulate gill-sans. 10pt for all, except in terms section use 8pt and 4pt spacing between paragraphs
timeline inset box width must fit the line "1986 heart condition diagnosed; reduced teaching kendo; eventually retired"
edited and reformatted the text inside the timeline inset to fit
cropped the top and bottom photos (see notes below) and edited captions to fit
---
photos to use
except for first one, click on thumbnail to access full size image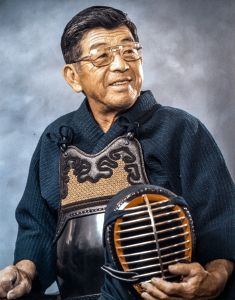 use Korhan's cleaned up version in dropbox (Hara ad)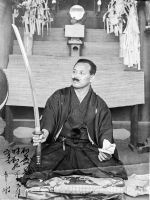 Nakamura Tokichi Sensei
Founder of Hokubei Butokukai (North American Martial Virtue Association). According to their own publication, by the late 1930's they had over 10,000 followers, organized into 6 federations and more than 50 dojo throughout the West Coast. Nakamura Sensei was born Meiji 20 (1887), 3 dan by Taisho 5 (1916), started Hokubei Butokukai Showa 4 (1929), and returned to Japan Showa 12 (1937).
note: crop off top/bottom, leave just enough to show sword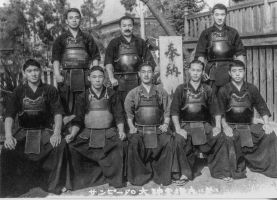 San Pedro Dojo at Terminal Island Shrine
1/28/1934
top, left to right: Hirano (Japan), Nakamura Sensei, Yamamoto (Denver); bottom: *Imada, *Nakano, Fuji, Maruyama (Japan), *Hara (age 19)
* the Three Claws (top deshi of Nakamura Sensei)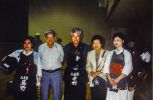 Last photo of Hara Sensei
6/4/1995
Photo taken at a special keiko held at OCB Dojo for Nakamura Tokichi Sensei's family, visiting from Japan (daughter Fujino Tamae, son Nakamura Fujio, granddaughter Hayashi Fukiko). Hara Sensei entertained them at his home earlier in the day. Three days later, he passed away. The kendo community was lucky to have one last chance to see Hara Sensei.
(updated Dec'17 to include Nakamura family names) note: crop, see suggested layout

photos to maybe use?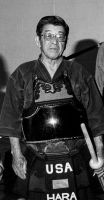 Hara Sensei 1985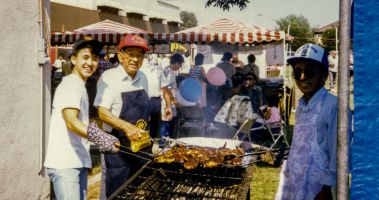 At home, Hara Sensei was known for his great cooking. Here is a photo from 1988 where he shares his expertise at the Norwalk carnival.

Dinuba Dojo 1941
photo includes Hara Sensei (top, 2nd from left) and Nakagawa Takeshi's father Nakagawa Fred Takeo (bottom, 2nd from right, black do) and grandfather Nakagawa Roy Motoharu (center, rightmost suit)
note: Takeshi sent pdf, not sure if usable for booklet; see also marked up pdf
---
miscellaneous background notes
(from here down not intended for inclusion in booklet)
rank history

started kendo 1930
1 dan 1931
2 dan 1933
3 dan 1934
4 dan 1937
5 dan 1938
renshi 1938
6 dan Nov 1959
kyoshi Oct 1963
7 dan Mar 1971
8 dan Nov 1981
hanshi 1993
---
west coast kendo history notes

notes on Hokubei Butokukai (HBK)
North American Martial Virtue Association
established Sep'1929 in the San Francisco Bay area by Nakamura Tokichi sensei
spread kendo in California, Oregon, and Washington
Mori Torao taught in Los Angeles from 1936 until 1940 when he returned to Japan
notes on Hokubei Kendo Taikan (HKT)
Cyclopedia of Japanese Kendo Societies in North America
published by Hokubei Butokukai in 1939
after Pearl Harbor, most owners burned their copies to avoid being associated by the US government with Japanese militarism, so very few copies left in existence
HKT reference pages for historical exhibit?
see also historical references