All U.S. Kendo Championships, August 7-8, 1999
---
Junior youth division
Goya, Yoshiaki (OCB)
Matsumoto, Satoshi (Covina)
Tamura, Shoichi (OCB)
Omura, Masahiro (Norwalk)
Yoo, Simon (Torrance)
Hacopian, Christopher (Covina)
Kinjo, Hideto (Covina)
Senior youth division
Hamai, Tsukasa (Covina)
Okada, Steven (Chuo)
Kitajima, Yutaka (Torrance)
Yang, Daniel (Torrance)
Hashimoto, Omito (Chuo)
Women's division
Kodama, Jean (Norwalk)
Shikai, Yuriko (Chuo)
Uto, Rika (Chuo)
Tatsumi, Saeko (Covina)
Abe, Judy (Chuo)
Fukumoto, Karen (Sho Tokyo)
Sakae, Mitsuyo (Sho Tokyo)
Men's division
Hosokawa, Spencer (Costa Mesa)
Matsukubo, Koichi (Chuo)
Yoshimura, Mike (Norwalk)
Abe, Kevin (Sho Tokyo)
Yang, Chris (Torrance)
Hashimoto, Kunito (Chuo)
Goya, Yoshiyuki (OCB)
Senior division
Hosokawa, Hiroyoshi (Costa Mesa)
Fukawa, Koji (Norwalk)
Bailey, Dennis (SFV)
Olson, Brian (Chuo)
Kang, Moon Il (Monterey Park)
Goodwill division
Ariga, Taro (Tustin)
Chinen, Katsumi (Covina)
Sakamoto, Gary (Torrance)
Chinen, Katsushi (Covina)
Terashima, Teddy (OCB)
---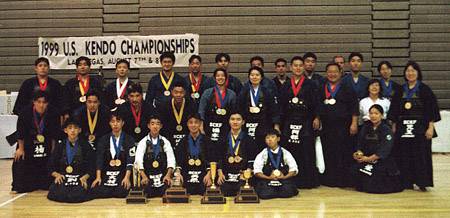 (photo by Taeko Yang)
Championship results
Junior Team
1st SCKF
2nd NCKF
3rd SEUSKF
3rd PNKF

Women's Team
1st SCKF
2nd NCKF
3rd SCKO
3rd MWKF

Men's Team
1st NCKF
2nd SCKF
3rd GNEUSKF
3rd AEUSKF
Junior Youth Individual
1st Yoshiaki Goya (SCKF)
2nd L. McKee (GNEUSKF)
3rd James Tamashiro (SEUSKF)
3rd Masahiro Omura (SCKF)
Sp: Satoshi Matsumoto (SCKF)
Sp: Takahiro Maekawa (NCKF)
Sp: Garrett Suzaka (PNKF)
Sp: David Kayashima (PNKF)

Women's Individual
1st Kaori Takada (SCKO)
2nd Karen Fukumoto (SCKF)
3rd Yuri Ikeda (NCKF)
3rd Judy Abe (SCKF)
Sp:: Mitsuyo Sakae (SCKF)
Sp: Naomi Nishimoto (NCKF)
Sp: Kaori Kikunaga (NCKF)
Sp: Elizabeth Marsten (PNKF)

Senior (50+) Individual
1st Fujio Takada (SCKO)
2nd Osamu Okaniwa (SCKO)
3rd Sueharu Takenaka (SCKO)
3rd Hiroyoshi Hosokawa (SCKF)
Sp: Dennis Bailey (SCKF)
Sp: Ken Ogawa (NCKF)
Sp: Spencer Wong (AEUSKF)
Sp: Kunitoshi Arai (SEUSKF)

Senior Youth Individual
1st Daniel Yang (SCKF)
2nd Steven Okada (SCKF)
3rd Chuji Takada (SCKO)
3rd Yoshihisa Ishizuka (AEUSKF)
Sp: H. Tagawa (GNEUSKF)
Sp: Yutaka Kitajima (SCKF)
Sp: Tsukasa Hamai (SCKF)
Sp: Adam Mori (NCKF)

Men's Individual
1st Tetsuya Nishimoto (NCKF)
2nd Shig Hamamatsu (NCKF)
3rd Koichi Matsukubo (SCKF)
3rd Mike Minami (NCKF)
Sp: Yuji Onitsuka (NCKF)
Sp: Spencer Hosokawa (SCKF)
Sp: Hajime Sugawara (MWKF)
Sp: Mike Yoshimura (SCKF)

Goodwill Individual
1st Kyoko Ono (AEUSKF)
2nd Ken Ching (NCKF)
3rd Atsushi Fujimoto (SCKO)
3rd Ken Sato (Hawaii)
Sp: Taro Ariga (SCKF)
Sp: Mikio Koga (NCKF)
Sp: Etsu Kikunaga (NCKF)
Sp: Brian McCarry (PNKF)
---
Dear SCKF Team Members:
I want to congratulate all of YOU! and thank you for your participation in the national tournament and representing SCKF. It was definitely my pleasure to be your coach/manager these past months and maybe someday I'll get the chance to do it again. You were all a pleasure and I hope you were able to get something out of the experience, I know I did!
I hope that Shikai-san and Tew-san (Tatsumi) make full recoveries and begin practicing again soon! We hope Isono Sensei recovers fully also.
Take care and thanks again for providing me with a very enjoyable few months and exciting championship!
Even tho we all didn't win, in my book, you are all WINNERS!!!
Best wishes, Tim Yuge
---
The team members got together and gave the following gifts to Yuge Sensei and Isono Sensei:
gift certificates from Eguchi USA
full page ad in Torrance 25th Anniversary booklet (note: both senseis belong to Torrance Dojo which is hosting its tournament in November)
engraved, framed copies of the ad (photo by Taeko Yang)

To Yuge Sensei, Coach and Manager
and Isono Sensei, Assistant Coach

Thank you for all your dedication and hard work
to prepare us for the
1999 All U.S. Kendo Championships!

From Team SCKF

(list of all team members in three columns)