Inside the EV1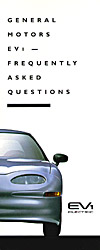 June 2006: Chris Paine's movie is out! See http://www.evconfidential.com/ to find out where and when it is showing.

Reviews:

Orange County Register: The case of the dead EV1: 'Who Killed the Electric Car?', David Germain (AP), 5 July 2006
http://www.ocregister.com/ocregister/entertainment/movies/newreleases/article_1197832.php

Now Playing Magazine: "Who Killed the Electric Car?", Brent Simon, 30  June 2006
 http://www.nowplayingmag.com/content/view/4092/47/

Living on Earth: This Week's Show, Week of April 28, 2006,  Steve Curwood  
http://www.loe.org/shows/segments.htm?programID=06-P13-00017&segmentID=2

Terrapass: "New electric car film is...electric",  May 12, 2006
http://www.terrapass.com/terrablog/posts/000262.html    

The Independent: "The plot to kill the green machine"*,  01 June 2006  
http://news.independent.co.uk/environment/article623261.ece

PBS NOW: "Who Killed the Electric Car?",  6.9.06  
http://www.pbs.org/now/shows/223/index.html    

EV World: "An Electric Car Murder Mystery",  Noel Adams, June 16, 2006  
http://evworld.com/view.cfm?section=article&storyid=1050    

Time: "A Hot New Crop of Docs"  RICHARD CORLISS, June 26, 2006  
http://www.time.com/time/archive/preview/0,10987,1205348,00.html    

Grist Magazine: "Interview with makers of Who Killed the Electric Car?", 
David Roberts, 26 Jun 2006  
http://gristmill.grist.org/story/2006/6/26/172718/341    

Grist Magazine: "All About EV",  Hannah Eaves, 27 Jun 2006  
http://www.grist.org/advice/books/2006/06/27/eaves/   
 
Dailynews.com: "Fighting the power over electric cars",  Glenn Whipp, 06/27/2006  
http://www.dailynews.com/search/ci_3986536    

LA Times Calendar: '"Who Killed the Electric Car?",  Michael Wilmington (Chicago Tribune)  June 28, 2006    

New York Times: "Some Big Reasons the Electric Car Can't Cross the Road", Manohla Dargis, June 28, 2006  
http://movies2.nytimes.com/2006/06/28/movies/28kill.html?ex=1152331200&en=306139bd3a749570&ei=5070&emc=eta1    

Blogcritics.com: "EV Owners Have Their Say", Part I,  June 29, 2006  
http://blogcritics.org/archives/2006/06/29/082227.php    

CNN:  "Film wonders: 'Who Killed the Electric Car?' ", June 30, 2006  
http://www.cnn.com/2006/SHOWBIZ/Movies/06/30/film.electric.reut/index.html    

Science Friday: "Electric Car",  June 30, 2006  
http://www.sciencefriday.com/pages/2006/Jun/hour2_063006.html

* requires paid subscription
---
January 2005 Update: Reports still occasionally come in regarding EV1's in use by GM employees in New York on one hand, but the crushing of cars continuing on the other hand. Check out http://www.evconfidential.com/ to see an effort to document the life and death of the EV1.
---

Death Row: Awaiting destruction...

EV1 Graveyard


From an anonymous contributor comes confirmation of GM's scorched-earth EV1 policies. These photos were taken in December 2003 at GM's Desert Proving Grounds in Mesa, AZ.

Click on images to enlarge.

... and after the hammer has fallen
---
EV1 Funeral - 7/24/2003
The last few EV1 drivers bid farewell to the EV1 at a funeral held in Los Angeles. Read the LA Times coverage (or view the text version) and view the photos and video clips (links below).


Video clips require the RealOne player, available free from real.com.
---
GM Pulls the Plug on Inductive Charging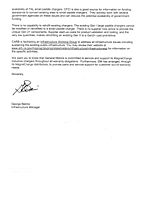 An official letter from GMATV explaining that the charger conversion efforts funded by GM have been terminated due to the CARB decision to standardize on conductive charging. Click on the pages at left to read the letter from GMATV - Torrance Operations.
...and
GM Pulls the Plug on the EV1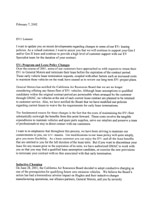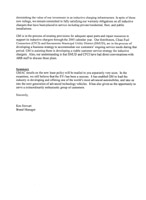 EV1 Drivers have already heard from GM that the EV1's will no longer be leased after current leases run out. For those who aren't drivers, click on the pages at left to read the "Dear John" letter.

... on the other hand, GM offers lease assumptions for cars which have had leases terminated early. Hurry! This may be your last chance to drive an EV1! Click on the page at left to read this letter.
---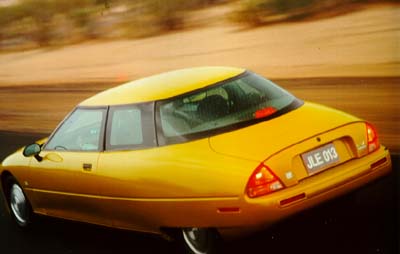 4-seater EV1.
---
| | |
| --- | --- |
| | Thank you and Best Wishes to Southern Cal EV Specialists Jaci Stanton, Chelsea Sexton, and Howard Stuart for your enthusiasm and service beyond the call of duty! |
---
| | |
| --- | --- |
| | GMATV and SMUD begin the switchover to the new small paddle standard. |
---
---
About this website...